Moors of the Šumava Mountains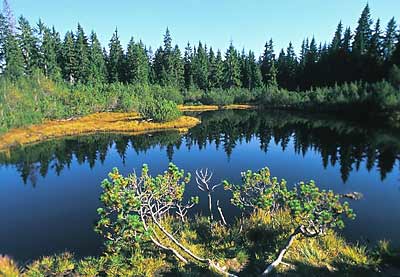 The moorlands are one of the features of nature in the Šumava Mountains. Only three of them are open to visitors. The Tříjezerní slať, translated into English as the Three Lake Moor, is a small steep high moor under the south-eastern slope of the Oblík Mountain.
A small nature trail was opened in 1978 and it enables to have a pleasant view of the moor including the three lakes. A typical upland high moor, which forms a water shed, can be found between the villages of Kvilda and Horská Kvilda. Its area is 103ha and has been a protected area since 1978. There is an observation tower and a wooden path on the edge of the moor.