Page content
Sport,Tourism
A large range of fans is gathered around the cycling marathon Author Kral Sumavy (the king of the Sumava mountains). Twice a year thousands of cyclists set out on demanding tracks from the square, consisting of road and mountain bikers.
The BMX area is on high level, several times a year it hosts championships with acrobatic tricks. Motor racing fans will never miss the Mogul Sumava Rallye (a famous car rally) or Historic Vltava Rallye.
Sportsmanlike visitors will be pleased with numerous sport areas in town - an open-air swimming area, an indoor pool, a winter stadium, squash halls, tennis courts, fitness and wellness centres etc. For relaxing and leisure there is a public sauna, a salty water pool, massage centres, solariums or a salt cabinet.
The town is connected with a modern cycling route and a net of other routes, leading as far as the hills of Sumava. Active hikers can use a broad networks of marked hiking paths in the surroundings.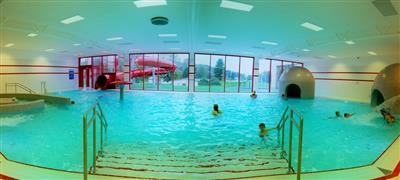 The town offers plenty of opportunities – both active and passive. If you wish to be active, visit the newly reconstructed swimming pool.